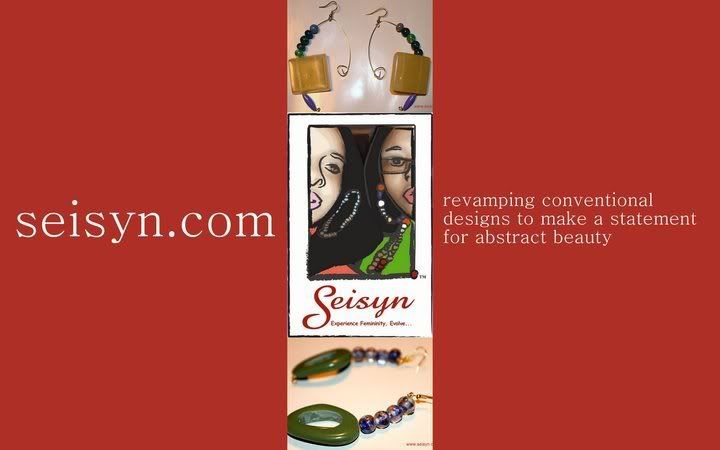 A month from today marks my 1 year anniversary of rocking my hair in its natural state. So to celebrate I will be hosting a giveaway from Seisyn Jewelry. I would like to thank all my readers for the support and tips throughout my journey. And according to Seisyn.com, Seisyn is a variation of the word, season and their definition of the word season reminds me of my natural hair journey. I encourage you all to visit the website and read the "About Seisyn" section and see how it relates to your experience.
Read below for some info on Seisyn and how you can win some of their beautiful pieces!
Natives of Chicago, we LaNaye and LaToya, have partnered in ownership of Seisyn since 2003. Initially beginning as a creative pastime, we officially launched our company professionally after receiving much public appeal in the Baltimore area during our undergraduate matriculation at Morgan State University. We have always had big dreams fueled by equally strong amounts of talent and passion. This has enabled Seisyn's distribution in several boutiques in Chicago, as well as a featured spot during New York Fashion Week 2009. Through Seisyn's distinctively matchless product line we offer a tailored experience in jewelry that is never duplicated. Both of our inspiration to create wearable art comes from the desire to promote the freedom in women to be bold, uninhibited, and take risks. It is always our goal to continue to increase the visibility of our brand, so we expanded to include a children's line and are anticipating a global expansion via our website in 2011.
What makes Seisyn different from other jewelry lines?
She is the fun, funky, fashionista. She is ageless and colorless-her only concern is style that differentiates her from every other woman. She rejects normality but when forced upon her she makes it her own. She is a woman that never goes unnoticed. She is comfortable and confident in her own image & identity, and when she's not it goes unnoticed. People look to her to set the bar…she is the trend setter but never follows the trend. She is constantly renewing herself. To call her "ideal" is an understatement.
How do you want ladies to feel when they wear your jewelry?
Within every woman exists a certain freedom that is waiting, wanting to be exposed. Some are willing and unafraid to operate from that place, some need permission to liberate our creative niche. Seisyn is the catalyst! Women should not feel inhibited in our sense of artistic physical expression. Be fun, colorful, different, courageous, bold, beautiful…be you! We invite you to explore & expose the woman in you that is free, your highest self. Crafting hand beaded jewelry that elicits autonomy is our pleasure. Seisyn: Experience, Femininity, Evolve…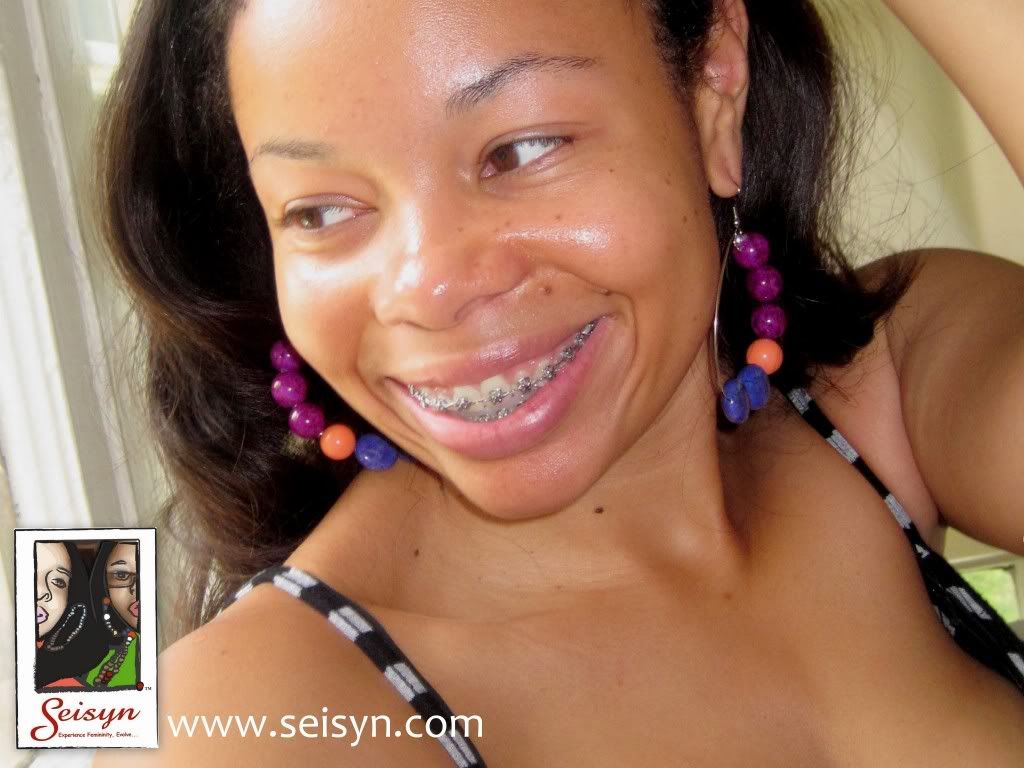 Giveaway Rules:
1. Visit http://www.seisyn.com and leave a comment on here letting me know your favorite piece
2. Subscribe to this blog and let me know how you follow it
3. Put your email address
2. Add Curly Chellez on Facebook and become a fan of Seisyn's page, leave a comment on Seisyn page saying, "@Curly Chellez sent me" make sure to use the @ with my name so that you can link it back to my page +3
3. Tweet "Enter @curlychellez giveaway to win @Seisyn Jewelry at http://curlychellez.blogspot.com/2011/08/my-1-year-curliversary-giveaway.html" +1 (in your comment leave me a link of the actual tweet)
5. Make a blog post and/or Youtube video that talks about Seisyn Jewelry and my giveaway +5 each
*Only 1 comment per person (include your extra entries in your original comment)
The giveaway ends on September 14, 2011 at 11:00 PST
The winner will be announced on my anniversary...September 15, 2011!
The winner will receive Stillness and High Five. Stillness is from the adult line and High Five from the kids line